Record turnout at Taurus Annual General Review Meeting
More than 100 people attended the Taurus Annual Review meeting, held via Zoom on Thursday 26 November.
Comprising representatives from Herefordshire General Practice, Taurus Healthcare, HWCCG, Wye Valley NHS Trust, Herefordshire Council and other stakeholders, this was the largest ever attendance at a Taurus annual event.
Taurus Chairman, Dr Nigel Fraser, kicked off the event with a thanks in particular to Taurus' "Amazing Operational Team" who he said had "Done above and beyond what had been asked of them." He also acknowledged the support given by the CCG and other provider partners who had shown great flexibility and adaptability throughout the pandemic.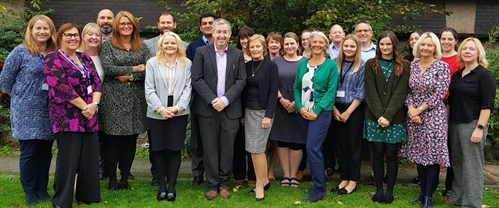 Taurus Managing Director, Dr Mike Hearne, added that the close working relationship Taurus had developed with General Practice during the pandemic had helped to cement Taurus' important supporting role in the county.
The Annual Review included content from all members of the Taurus Executive team, as well as input from Clinical Directors Dr Andy Watts (Hereford Medical Group), Dr Verity Wilkins (East PCN) and Dr Silvana McCaffrey (North and West PCN). The Clinical Directors stated how valuable they had found Taurus' role in coordinating and supporting Herefordshire General Practice's response to the pandemic. Dr Verity commented: "The PCN Development Managers are worth their weight in gold. Absolutely brilliant!"
The Annual Review meeting was followed by the more formal Annual General meeting, attended by Taurus Board members, shareholders and practice managers.
As well as a formal presentation of Taurus Healthcare Ltd's annual accounts by Finance Director, Andrew Lee, attendees took part in workshops to discuss how General Practice and partners could work together in the future, particularly as we move towards integrated care systems.
The workshops were informed by a questionnaire, which had previously been sent to all Herefordshire GP practices. Further feedback about the workshops and the survey results is due at a later date.
Taurus Healthcare would like to thank everyone who attended either or both events. Feedback has been amazing. Here's a selection of just some of the comments we received:
"Taurus lead by example, amazing caring and pro-active people with great insight."
"Heroic effort from Taurus team and CDs at the beginning of the pandemic."
"It has, and continues to be, an absolute pleasure to work with Taurus across the system."
"It's been an 'interesting' year for General Practice - Taurus has certainly been a significant enabler at a time of global crisis. Proud to be part of General Practice in Herefordshire."
A recording of the meeting is available to view here .
Alternatively, you can read an online copy of the Taurus Annual Report .
If you'd prefer a pdf copy of the Annual Report, please email: comms@taurushealthcare.co.uk
More Articles
For further information about any of these news stories, please email the Communications Team