Local student designs 'Vaccination Hero Thank You' badge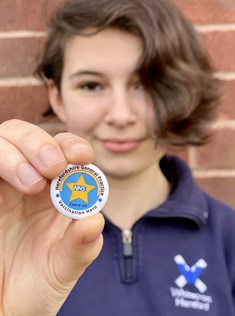 Fifteen-year-old Whitecross High School student, Bethan Pearson, has designed a 'Thank You' badge to give to all volunteers who have helped out at the Herefordshire General Practice COVID-19 Vaccination Hubs.
Bethan's mum, Gillian Pearson, works as a Primary Care Network (PCN) Development Manager at Taurus Healthcare. She has been heavily involved with the vaccination roll-out programme across the county, in conjunction with colleagues across Herefordshire General Practice, Wye Valley Trust, Herefordshire Council and Herefordshire and Worcestershire CCG, and has been deeply humbled by the level of commitment shown by the volunteers.
"Some volunteers – we like to call them Vaccination Heroes - turn out every single weekend," says Gillian, "Whether they're members of the clinical teams, helping out with administration or acting as car park marshalls, we couldn't have achieved what we have without them. We wanted to give them some small token of thanks to show how grateful we are for their help, and so we came up with the idea of a commemorative badge."
Bethan is studying GCSE art at school and is a keen artist, so Gillian asked her daughter to try and come up with some ideas. Bethan takes up the story:
"I came up with five designs to start with and then mum and her colleagues asked me to work up their favourite into a final piece of artwork. I was quite surprised to hear that one of my designs would actually be turned into the final badge to be given to the vaccination heroes!
"I've seen mum working so hard during the pandemic and the impact it's had on her and her colleagues. It was so nice to be able to do my little bit to
help thank and appreciate the volunteers who've stepped forward."
The roll-out of the vaccine programme across Herefordshire has been a huge logistical effort from all involved. Thanks to effective planning and coordination by all partners, thousands of vaccines have been delivered via five PCN Hubs to those groups of patients determined by national statistical analysis to be most at risk of serious illness from the virus. This would not have been possible without the involvement of hundreds of both clinical and non-clinical vaccination heroes who have stepped forward to help.
Volunteers will continue to be vital to the vaccination programme as new cohorts are invited to attend for their first jabs and patients return for their second. Meanwhile, Bethan is looking forward to returning to a more normal school life and to pursuing her ultimate goal of becoming an Oxbridge student.
More Articles
For further information about any of these news stories, please email the Communications Team