Hereford MP visits Taurus vaccination site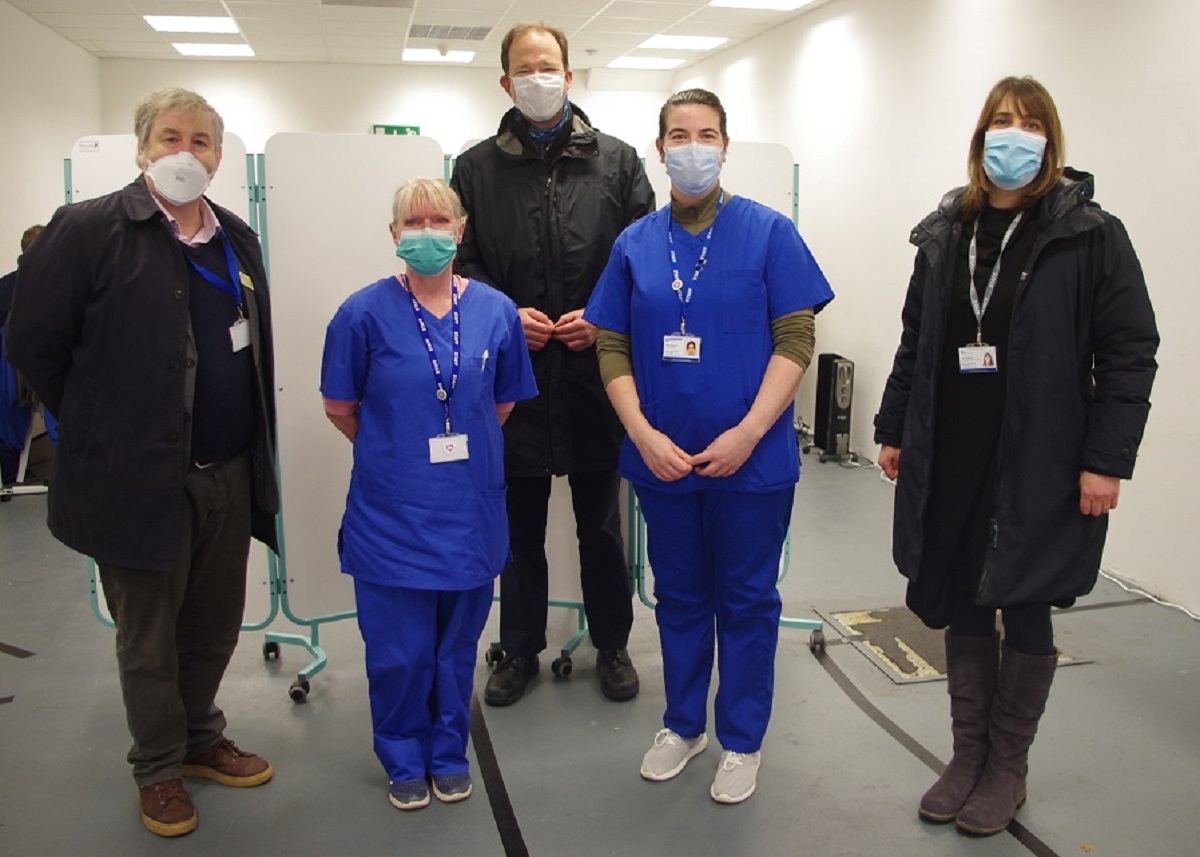 Hereford City and South Herefordshire MP, Jesse Norman, recently paid a visit to the Maylord Orchard, Hereford pop up COVID vaccination site, run by Taurus Healthcare.
Mr Norman is keen to recognise and pay tribute to the work that has been done – and continues to be done – by Taurus Healthcare, Herefordshire General Practice and other healthcare partners and volunteers to deliver vaccinations to local residents.
He said:
"Thanks to everyone for the phenomenal effort they have made to get Herefordians properly jabbed against COVID. Vaccinations play an enormous part in keeping us all safe, and I congratulate local healthcare teams for all the work they have done to help residents to get vaccinated."
He continued:
"Because of my personal connection to the Vaccine Task Force*, I feel emotionally very involved with the whole vaccination process. It is great to see how keen local people have been to step forward, both to be jabbed and to act as volunteers. We all owe them a massive debt of thanks."
During his visit to the Maylord pop-up site, Mr Norman chatted with Taurus Healthcare's MD, Dr Mike Hearne, as well as the vaccination staff, site manager, volunteers and members of the public.
Dr Hearne commented:
"It was a pleasure to welcome Jesse to the site and we are always grateful to receive recognition for the work that we're doing. We are continuing to offer opportunities for local people to have their 1st, 2nd and booster COVID vaccinations. More than 420,000 vaccinations have so far been delivered in Herefordshire by ourselves, Herefordshire General Practice and Wye Valley Trust. This is a fantastic number, but there are still some people who are not protected. Latest details on where and when to get vaccinated in the county can be found on our webpage. For many of the clinics, there is no need to book and people don't even have to be registered with a GP."
* Jesse Norman is married to Kate Bingham who chaired the Government's Vaccination Taskforce and was responsible for the procurement of COVID vaccinations and the strategy for their deployment.
More Articles
For further information about any of these news stories, please email the Communications Team