Bishop of Hereford visits Ross-on-Wye GP Surgery
Bishop Richard, the 106th Bishop of Hereford, made a private visit to Alton Street Surgery, Ross-on-Wye recently in order to thank front line staff for their hard work during the pandemic.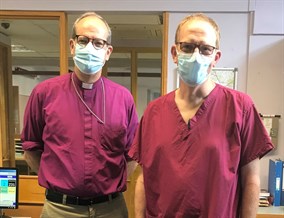 The Bishop was hosted by Dr Simon Lennane, GP at Alton Street Surgery and Clinical Director Herefordshire South and West Primary Care Network. During the visit, the Bishop talked to surgery staff to find out their experiences of life during lockdown.
Commenting on the visit, Dr Lennane said: "On behalf of all of our staff, I'd like to thank the Bishop for the interest and care he has shown for those working in primary care. We very much enjoyed showing Bishop Richard around the surgery and sharing with him our experiences of working throughout the pandemic. It was a different experience compared with normal times due to COVID operational practices, but we hope nevertheless that the Bishop found it useful."
Bishop Richard said: "It was a real privilege to be shown around the surgery and meet the staff, expressing my thanks to them on behalf of the wider community. They and other key workers have been and continue to be the real heroes of this crisis."
More Articles
For further information about any of these news stories, please email the Communications Team